Growth of Information Technology (IT) Industry in India!
Two main components of Information Technology (IT) are software and hardware. The software has emerged as the major industry in the field of electronics. This industry made a modest beginning in the 1970s and by mid-1980s, the forecasters, analysts and policy planners started understanding the potential of computer software application.
The industry achieved a major breakthrough in the 1990s and is now one of the important industries of India. The main cause of the rapid development of software industry is its vast reservoir of technically skilled manpower which has transformed India into a software super power.
With a compound annual growth of about 52 per cent between 1991 and 1996, the Indian software sector has expanded almost twice as fast as the world's leading US software industry did, during the same periods, although from a smaller base.
There is now a critical mass of more than 500 software firms in the country and apart from these companies there are an additional 1,000 start-up-companies. Today, India is one country that offers cost-effectiveness, great quality, high reliability, speedy deliveries and, above all, the use of state-of-the-art technologies in software industry. The year 1995-96 was a boom year for the Indian computer industry and the Information Technology (IT) industry of India really exploded in that year.
Despite the challenges such as the continued technology slowdown in the global market, strong fundamentals and core value position of the software and services industry led to outperforming all other sectors in the country. Its export grew by 26.3 per cent in 2002-03, clocking revenues of Rs 46,100 crore.
The Indian software and services industry is one of the very few sectors worldwide to have witnessed double digit growth (Fig. 27.11). This has increased its share of total Indian exports from 4.9 per cent in 1997 to 20.4 per cent in 2002-03. It is expected to generate total employment for four million people (including support services), account for 7 per cent of India's GDP and 30 per cent of India's foreign exchange inflows in the year 2008.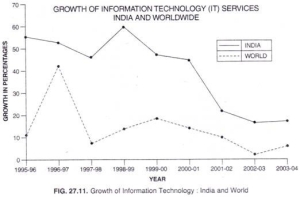 Software has become a major item of export in India. In the year 2004-05, the software and service exports from India registered a 34.5 per cent growth. The total software and services revenues grew by 32 per cent to $ 22 billion in 2004-05 and to $ 28.5 billion in 2005-06 (see Table 27.21).
Table 27.21Progress of IT Industry (figure in $ billion):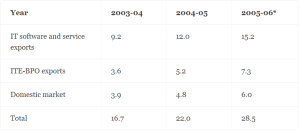 According to NASSCOM, the industry is expected to register a growth of 30 to 32 per cent in the near future. The domestic market, according to NASSCOM, grew by 24 per cent. Findings of the survey conducted by NASSCOM indicate that the total do my math homework value of outsourcing to India ($ 17.2 billion in 2004- 05) is as much as 44 per cent of the worldwide total.
There is good reason to believe that the present strong momentum will continue to drive the expansion of this industry. Indian companies have so far concentrated on only two largest IT service markets, viz., the U.S.A. and the U.K. Countries like Canada, Japan, Germany and France represent huge growth potential. Other countries like the Netherlands, Sweden and Australia also hold great possibilities. IT companies are aggressively exploring other markets in Europe, Latin America and Asia Pacific.
Hardware:
The hardware segment of Information Technology (IT) industry is one of the fastest growing industries in terms of production, international trade and is characterised by innovation. According to a recent study, by 2010, the global electronics industry would cross $ 1 trillion mark and Indian electronic hardware industry may be well over $ 73 billion by then. The components segment has a potential to reach $ 11 billion by 2010. This will offer employment opportunities to over 5 million persons.
After liberalisation in 1991, India is fast catching up with the world in terms of penetration of IT, telecommunications and consumer electronics products. This can lead to a huge demand for these products as well as provide base for global competition.
"The Personal Computer (PC), not TV, will be the key information appliance of 21st century," said Andy Grove, co-founder of Intel, the world's largest chip-maker over a decade ago. He was proved right in the U.S. before the turn of the 20th century when for the first time PCs outsold TVs. This has not happened in India, and may not happen for another decade. But PCs are gaining more popularity in India as compared to TVs as the time passes.
Sale of personal computers (PCs) increased by 20% in 2004-05 to 3.63 million units. Internet subscribers also went up by 23 per cent in 2004-05 to 2.92 million over the previous year. The rise in PC sales can be attributed to home segment which posted a growth of 48 per cent.
Significant consumption by telecom, banking, manufacturing as well as business process outsourcing (BPO) and IT enabled services (ITES) segment also contributed to rise in PC sales. India has emerged as the most preferred destination for BPO, a key driver of growth of software industry and the service sector.
Smaller cities and towns fueled the IT consumption with class С cities accounting for over 50 per cent of total PC sales. Under the existing growth pattern, the domestic PC market is expected to touch 14.3 million units by 2010 with PC penetration of 45 per 1000 people. Output of Indian electronics and IT industry is estimated to have grown by 18.2 per cent to Rs. 1, 14,650 crore in 2003-04
Table 27.22 Electronics Production (Rs. crore):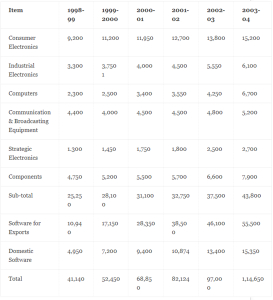 The Department of Information Technology has recently drafted a wholesome IT hardware policy which addresses the basic problems faced by this industry. This policy must be implemented to rid the industry of the ills it is currently facing.
The vision of IT policy is to use IT as a tool for raising the living standards of the common man and enriching their lives. Towards this end, the Department of Information Technology has taken up an ambitious programme of PC and Internet penetration to the rural and undeserved urban areas.
The Department has also announced a programme to establish State Wide Area Network (SWAN) up to the block level to provide connectivity for e-governance. The Department has also set up Community Information Centres (CICs) in hilly, far-flung areas of the North-East and Jammu and Kashmir to facilitate the spread of benefit of information and communication technology. It is also proposed to set up CICs in other hilly, far-flung areas of the country like Uttaranchal, Andaman & Nicobar and Lakshadweep.
A mixture of software and hardware technology lies at the heart of burgeoning business of embedded system design and India is emerging as a key centre for products from both local and global players. IT infrastructural facilities (software as well as hardware) are available at a number of places in India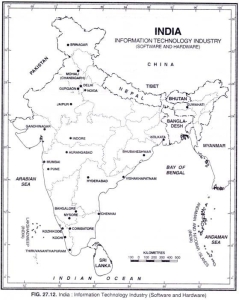 The television industry has also grown tremendously in the 1990s. The market size is about 2 million units with top four brands taking up over 80 per cent of the share. BPL and Videocon are on the top and accounted for 26 per cent each of the market shares. They are followed by Onida arid Phillips. Among the international brands, Panasonic and Akai are famous. It is now asserted that V has entered the smallest of homes and the tiniest of villages and communities. The VCR Industry has suffered heavily due to spurt in cable TV, especially in big urban areas.
The production of audio systems has registered a phenomenal growth during the recent past. The audio industry can broadly be classified as mono players, stereo players, midi systems, CD based systems and car audios. The present size of the Indian audio market is estimated at Rs. 1,500 crore and this is growing at an annual rate of 15-16 per cent.
The mono players and stereo players contribute more than 50 per cent of the total market. The top three players in the Indian audio systems industry are Philips, BPL and Videocon. These three makers account for 35 per cent, 20 per cent and 10 per cent respectively with the remaining 35 per cent share of the market going to smaller brands and the unorganised sector.
Indian electronics industry is also contributing a lot to space technology. India has launched several indigenously built satellites including APPLE, INSAT-1 series. The remote sensing programme of the Indian Remote Sensing Organisation at Hyderabad has also gained a lot from this industry.