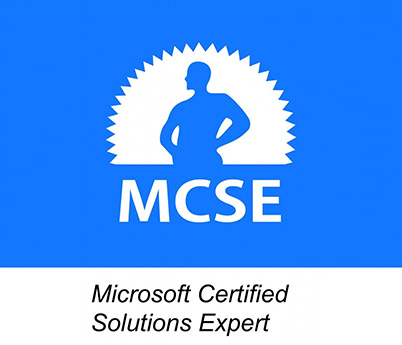 MCSE(Microsoft Certified Solution Expert)
Duration: 75 HRs
MCSE(Microsoft Certified Solution Expert)Productivity course is designed to provide professionals with extensive knowledge of directory services management, user admin, data Centre, with expertise in messaging technologies, mail servers, systems management, high availability, disaster management to accomplish their day to day job and MCSE certifications.
Course Coverage :
1. Installation, Storage, and Compute with Windows Server 2012
2. Install Windows Servers in Host and Compute Environments
3. Implement Storage Solutions
4. Implement Hyper-V
5. Implement Windows Containers
6. Implement High Availability
7. Networking with Windows Server 2016
8. Implement Domain Name System
9. Implement DHCP and IPAM
10. BOOT PROCESS
11. Implement Network Connectivity and Remote Access Solutions
12. Implement Core and Distributed Network Solutions
13. Implement an Advanced Network Infrastructure
14. Identity with Windows Server 2016
15. Install and Configure Active Directory Domain Services (AD DS)
16. Manage and Maintain AD DS
17. Create and Manage Group Policy
18. Implement Active Directory Certificate Services (AD CS)
19. Implement Identity Federation and Access Solutions
20. Core Solutions of Microsoft Exchange Server 2013
21. Install, Configure, and Manage the Mailbox Role
22. Plan, Install, Configure, and Manage Client Access
23. Plan, Install, Configure, and Manage Transport
CAREER OPPORUNITIES
IT professionals who have worked their way up to becoming a Microsoft Certified Solutions Expert may find employment in a variety of positions, including information security analyst and database administrator. An average or faster-than-average job growth was projected for most of these positions, and individuals could earn anywhere from $62,000 to a little over $90,000.